I'm Ready For My Close-Up
.....................I was interviewed via phone last week for a local business publication, a story about entreprenuerial Mom's (now I need a shirt that says that). Anyway, they wanted a picture of me with some vintage, so a guy named Duane came by yesterday morning and snapped a few. As a woman I am prone to vanity, particularly when having a picture taken that thousands of people will see......so once I was ready, I did some practice pictures to see how my ensemble & make-up translated to film. I'll not bore you with the good ones (and the really bad ones are deleted!) but this one amuses me to no end, particularly with the freaky mannequin peeking over the mirror.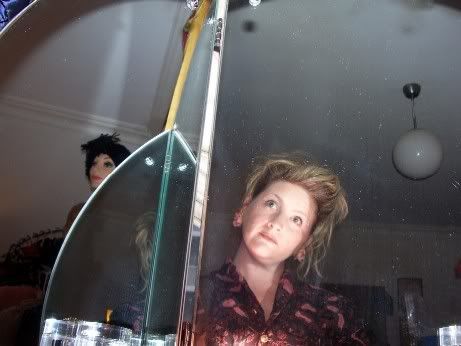 I made the poor college student who was tagging along shadowing Duane for job training take a picture of the "process"....so here's Duane, and a rotten side shot of me but what the hell.......
Article will be online, I'll link when it comes out if I approve! Ang