Apparently, all I do anymore is watch awards shows, and apparently, all the celebs I choose to comment on wear blue. At least the last two. And my excuse for sitting and watching said awards shows is simply this......I love the clothes, and its winter here in Iowa so I'm either iced or snowed in anyway! Saturday night the Screen Actor's Guild (S.A.G.) Awards show took place, and while I am certainly chock full of comments about many attendees, the one I actually had to Google to find out whether I was mad or way off on was Drew Barrymore.
Agreeing with the LA Times on her 60s inspired look (up do, pale make up) inspired by Brigitte Bardot & Sharon Tate (read their re-cap HERE>, I still found that on Drew it didn't quite work on stage. I wish I could find a clip (I'll keep looking)....because on the red carpet she looks smashing!.....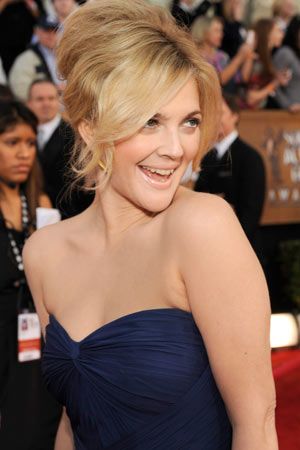 Under the lights of the stage the lip definition was lost and ended up washing her out horribly....sad indeed, given the effect it was clearly quite capable of. That said, more inspiration from vintage looks is always a good thing! And seeing Grey Gardens (a movie Dorothea's contributed to wardrobe for) win another award is always a great thing!
~Ang