HALLOWEEN'S A DRAG
When I BUY vintage for my business, I prefer to buy the whole estate. There are obvious reasons for this, especially in cases where there is a LOT of clothing.....if you start to pay by the piece, it really adds up. You also may miss out on gems like this....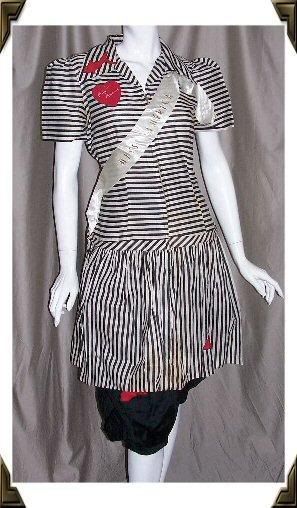 What's more, you build a relationship with the dealer (or family) of the deceased (or retiree). Which can often lead to being able to get your hands on something like this....
Let me tell you, seeing that picture put a whole new spin on that ensemble! A 40s dressing gown, shortened & packed away with men's Edwardian knickers? For the life of me I couldn't figure why it was so BIG, the lady who's estate it came from was quite small. Well, leave it to those wacky kids in the early 40's, always funnin' it up. I ended up, in this case, with several Halloween costumes & pictures which are all listed now on Ebay.
When I call my site/business "more than just a pretty dress", its exactly this kind of thing I have in mind. Not only does it enable me to offer the vintage collector or wearer a more complete ensemble (or bizarre photos), but it satisfies my slightly morbid curiosity as to WHO the original owner of the things I am aquiring was. How they wore it, perhaps when, how they looked in it. In the case of this costume, it came from a large estate that was mostly one woman's (Jean, to be precise), who I have written quite a lot about on my blog at MySpace, linked on your right. I also got letters, cards, her wedding ensemble......literally the fibers of her life. She had no family, and its somehow been left to me to see she is remembered. Her unwitting contribution to MY life has been that what I have been able to sell has paid my rent, bought food, payed for daycare. She lives on in pictures & words, and clothing.
I've managed a decent relationship with estate dealers so I have actually ended up with a couple more estates, much smaller & none so far with pictures.....but some good stories. It will be my goal, and pleasure, to share them here & muse about the lives of these ladies. And if I find more pictures of these gal's husbands in drag......you'll be the first to know.