I've been tagged by
SYDNEY'S VINTAGE FASHION RUNWAY
for the
eVINTAGE SOCIETY
Wednesday Blog Tag.
Animals…..we love 'em, we love to wear 'em! Prints, that is (fur is another and much more sensitive topic for another blog). Show us your animal prints!




1) Show us your favorite piece of animal print apparel in your inventory!

I loooove this 60s leopard print short sleeve sheath dress and safari inspired jacket set by Abe Schrader....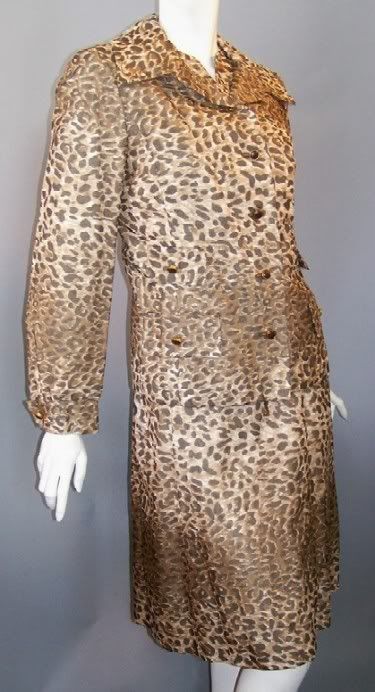 2)What is your favorite animal print to wear & why?
I love the look of zebra print in the home but not on me. For me, leopard works both in the size/shape of the print and the warmer color tones.
3)Favorite to sell?
Again, zebra, especially if its pre-70s...so hard to find!
4)Favorite pet and best pet story?

I prefer having cats to dogs for the simple fact that I do not have a yard and no time to walk a dog! I have 2 cats now, Buhaki and Basil. I'd feel guilty naming a favorite (as if they read). I had a fantastic cat named Terabithis from highschool til just a few years ago, she was a tux & a polydactyl (mitten kitten), and chock full of bitchy attitude. My puppy-cat, Hobbes, a big loveable tabby, passed away a coupld years ago also....my "best" pet story would be the time his brother/litter mate, Cosmo, woke me up one morning meowing loudly next to the bed and literally led me to an open window the screen had fallen out of. I knew immediately Hobbes would have been in that window and likely knocked it out, so ran down three flights of stairs (yep, third floor apartment), expecting the worst. He was scared but totally fine!
5)Scared of animals? Which one scares you the most & why?
Bats. Bats. BATS.
6) Favorite animal to visit at the zoo or to collect images of?
Gibbons. They make cool noises.

DOROTHEA'S CLOSET VINTAGE tags Julie at DAMN GOOD VINTAGE.
~Ang