I've been tagged by
SYDNEY'S VINTAGE FASHION RUNWAY
for the
eVINTAGE SOCIETY
Wednesday Blog Tag.
1) WHAT IS YOUR FAVORITE PRINT OFFERED IN YOUR INVENTORY?

I'm just working on adding this fantastic mod print 60s dress to the website, by Mr. Dino....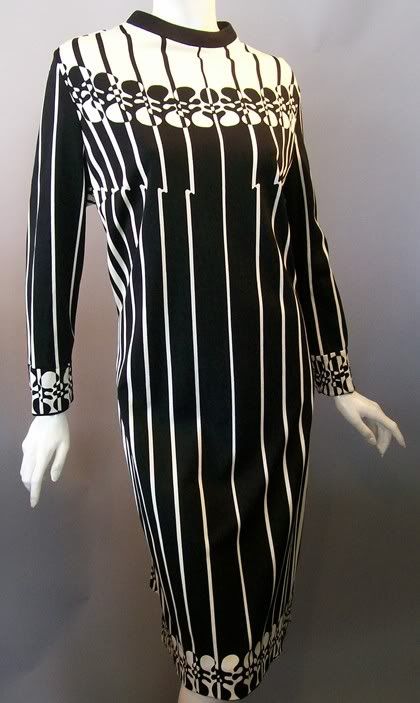 2)WHAT IS YOUR DEFINITION OF NOVELTY PRINT?
Well, it has to be novel. Not a plaid, or a floral...something whimsical and quirky.
3)MOST AMAZING NOVELTY PRINT YOU'VE EVER SEEN?

Hmmmmm. Just today I saw a print with a crowd of stylized gentlemen wearing top hats, all facing away from the viewer towards a skyscraper lined city.....off in the distance there was a woman in red near the city and a road leading back to the men.....between the woman and all the men there was one red shoe. Truly bizarre and fantastic!!
4)SIZE MATTERS….WHEN WEARING PRINTS, DO YOU PREFER BIG OR SMALL?

HUGE!!!!
COLOR OR BLACK AND WHITE?


Lots of color!!! I love a great graphic black and white but give me giant orange poppies any day!
6)WHAT DESIGNER DOES YOUR FAVORITE PRINTS? (think Shaheen, Pucci, etc)
I'm a big fan of Paganne, I love the borders set against bold prints.


DOROTHEA'S CLOSET VINTAGE tags Julie at DAMN GOOD VINTAGE.
~Ang