A NEW SPIN
.................No worries, still doing vintage here. The shop goes swimmingly, the website is growing and sales are steady (managed to achieve page one status on Google when searching just "vintage dress"....nice!). But with the shop comes a new angle.....the newer, trend-driven vintage. 70s & 80s, to be percise (not just any, of course....cool stuff). Makes you feel old when you wore it the first time around, but nothing is really EVER a new idea. The 80s stuff I was wearing back in highschool with the mammoth shoulder pads was an homage to Joan Crawford's Adrian masterpieces of the 40s.
And so. Say hello to Emily (see her fantabulous pics on her website, HERE
.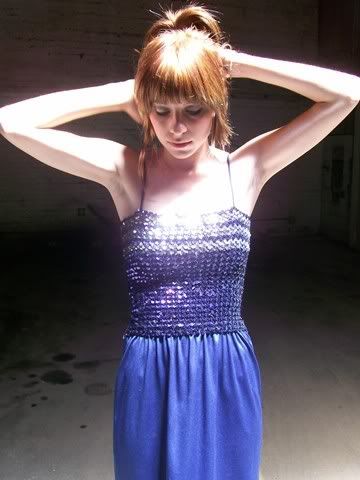 That dress is up for auction, and as eBay continually bites me in the arse when I DO list auctions, I fear it will disappoint me. I hope not. It was Emily's idea to pose under a skylight in the parking garage (oh, so seedy) with no flash.....the pictures turned out brilliantly. I would love to see this genre perform well, the clothes are great, she shows them perfectly, and its a wonderful break for me from the mannequin.
I'm still listing pre-60s, and just added a killer velvet & taffeta leopard print party dress from the 50s as well as an Alfred Shaheen halter Hawaiian 50s dress on the website! Adding a Suzy Perette tonight. Plenty more to come, and Emily and I do pictures every Thursday so look for listings on Thursday afternoons and Fridays!
Ang