FRESH PAINT
.....................We did the Target run yesterday. I love Target, its really the only retail world I enjoy shopping in these days. I despise the mall, detest grocery store chains and would rather chew my arm off than go to Wal-Mart. Target is nice. Clean, open, easy to find things. One cannot live on vintage alone, and the little one needed a winter coat......I needed yet another rolling rack for clothing. My Mom has a part-time job with Target & likes them as an employer, another plus in my eyes. Most big box retailers suck to work for (6 years with Home Depot has left me bitter), so its refreshing to hear of one someone LIKES. If you like Target, you should check out this nifty blog, SLAVE TO TARGET, a seriously cool read and just quirky enough to fascinate.
Target has a deal where they feature some funky young designer on a rotating basis. Whoever it was this month, Paul & Joe? Joe & Frank? JoeBob & Ernest? No idea. Anyway, cute CUTE little cotton camisole with very folk-artsy looking floral...screened to look as if handpainted. Adorable! Alas, only one....in an XS, and I do like to cover BOTH my breasts when I leave the house. Its warmer. Anyway.....said cami got me thinking about painted clothing. And shoes. Because shoes MATTER.
I've owned these for many years, they were my Grandmother's (yes, Dorothea)....diminiutive size 4, hand painted 50s springolators.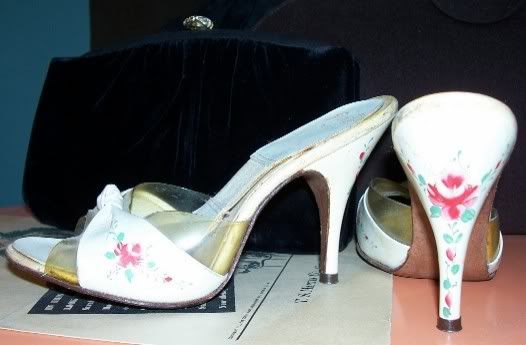 Ebay is always on in my home, because its my JOB after all.....so hey, why not see whats handpainted in the vintage world? Found this fantastic dress, the UK seller says "THIS DRESS WOULD MAKE ONE HELL OF A XMAS PRESENT" (seller being male).....and OH would it!!! If I could shrink both my figure AND feet to fit the dress and Grandma's shoes, imagine my GLEE!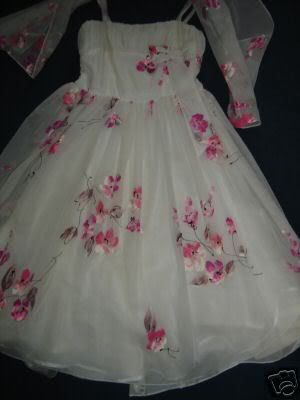 People are taking their handpainteds pretty seriously, check out these SHOES, a little bigger than Gram's but not QUITE my size....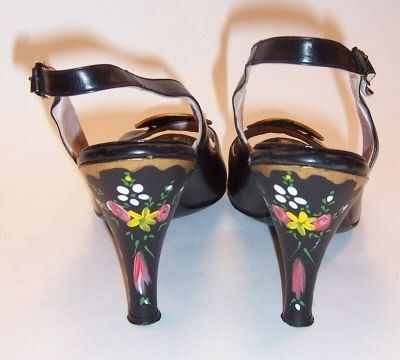 Lastly, a nod to the underappreciated handpainted TIE. I used to thrill at finding cool mens' ties from the 30s through 50s......great deco prints, wild themes, screened & painted silks. But something quite horrible happened to the market......collectors got their fill, men stopped shopping online....certainly, the waning of the neo-swing movement chilled the once hot "belly-warmer" crazy. At any rate, I still buy them, and have several hanging around I'm leery to list as they perform so poorly. But THIS tie.....come now. PUPPIES? Even T (Swingers, the film, kids) would have to roll with THESE puppies, sans ice cream. THIS you could get at a steal, and thats a pity but a happy thing for the big winner!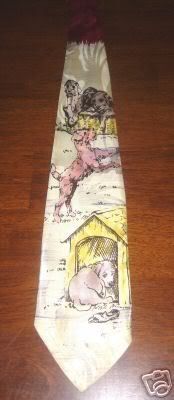 Shop all the handpainted ties! Some seriously cool ties and great prices....there's a nude getting some serious attention (shocking, no?) but the rest are up for grabs! Ang