Narrow Feet?
..............If that statement is at all true for you, then I've got your designer shoes, of the vintage variety. Cool ones. Ferragamo, both Salvatore AND Rosina (who aside from making much cooler shoes than her brother, has a killer signature inside the shoe with a swanky high heel coming off the "R" on her first name. Love it.).......Gucci, Levine, Geller and more. How did I come into a plethora of designer footwear for the slender size shoe wearing gal? An estate, a wonderful estate.....that of a woman who spent many years in New York City and clearly MUCH of her time shopping. Not only did I acquire the shoes, but also smashing lingerie, coats, handbags, designer belts, scarves....just waiting still on the CLOTHES! When and if it happens it will be great stuff to be sure. The shoes range in size from 7 1/2 narrow for the sexy 50's stilettos like this zebra print ones by Delman, currently listed in my eBay store, click to own them!
To size 8 1/2 aa to AAAA, which will fit a 7 to 7 1/2 narrow better with them being vintage and all. A good stretch by a professional cobbler will make them a little more accomodating as well...I wear a 7 and can get into most of them, albeit snugly. Ferragamos (Rosina, that is), on the website along with the blue suede Guccis below (and some fantastic designer belts!)....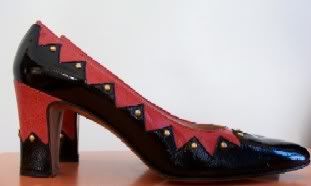 More...
More blue suede Guccis on eBay, as well as lots of MOD patents and more Ferragamos like these, click the picture to see the collection there!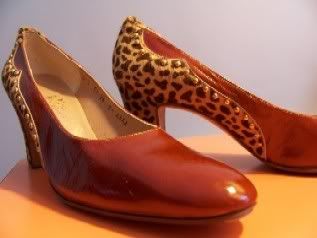 Great eye candy, museum worthy shoes in some cases! Some never worn....the woman loved her shoes and loved to SHOP! My kind of gal! Ang