Have A Glamorous New Year!
.........................One of the hightlights in the vintage fashion world this past year is actually quite relevant to New Year's Eve. On May 30th, the pink dress worn by Audrey Hepburn in the classic film BREAKFAST AT TIFFANYS was auctioned off by CHRISTIE'S to the tune of $192,000....nearly six times its given estimate.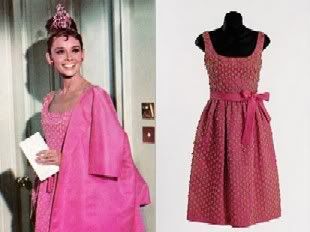 Maybe Christie's was surprised, but fans of Hepburn and the film were certainly not! The pink dress was worn in one of the most moving scenes in the film, on New Year's Eve....whereupon Hepburn's character Holly Golightly discovers her brother has passed away via a telegram. The dress, worn with a pink silk satin jacket, pink rhinestone tiara and bejeweled walking stick, epitomizes Golightly's struggle to reconcile her past with the image she has created of herself amongst the high rollers and society types of NYC's party scene of the early 60's.
Want to look perfect in pink for your next cocktail soiree? Just add a tiara to this gorgeous Lilli Diamond 60's cocktail dress and bring out your own inner Holly Golightly! Sequins and silk in shocking pink, from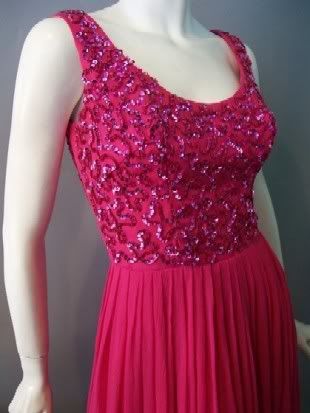 Happy New Year! ~Ang
PS....the perfect gift for the fan of Breakfast at Tiffanys? Get her this....a silverplated telephone dialer, naturally vintage as no one has need for them now (sadly)....she'll know what it means!