as in, a sweet mention about the website on Lucky Magazine's website! fashion savvy and adorable Desiree Marr had this to say about the site
Current Online Obsession: Dorotheasclosetvintage.com is a meticulously archived vintage shopping site organized by decade, from the 1800s through the 1980s. Browsing through the site reminds me of digging through the closet of the glamorous great-aunt I always wanted.
gotta blush a little. desiree, if you're out there and come across my blog, THANK YOU!
click the Lucky image to read the rest and see the lovely Desiree....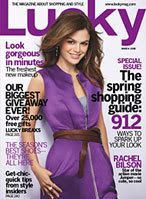 ~Ang