A puzzling trend has emerged here at my local boutique. Over and over I overhear customers who, upon discovering a full rack of 2 piece women's suits, exclaim surprise that the jacket they hold in their hands that they very much love has a matching skirt! Its truly stunning how many women come in that seem to have no concept of the idea of the suit for women. Nearly just as often I am asked to sell the jacket separately from the skirt, which I have to politely decline.
The suit is basically a two piece dress. Seen every season in some incarnation, the suit has not and never will go "out of style". These, from Dolce and Gabbana...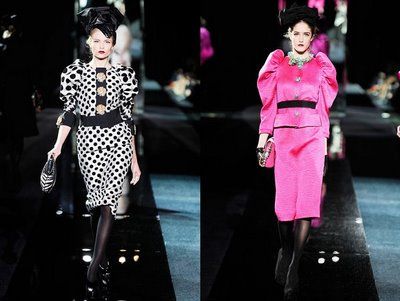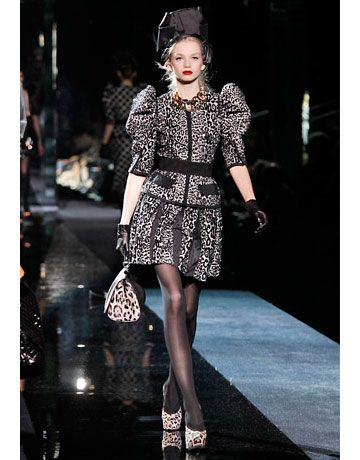 And from Karl Lagerfeld for Chanel....
So the suit has not become passe by any means. The suit is not a foreign concept in fashion, in fact quite the opposite. So why the fear? Why the scorn? Is it the matchy-matchy, Garanimals vibe a two piece set gives off to some people? Maybe so. But is it really so hard to imagine taking TWO great pieces of clothing and mixing them up with other pieces? Twill skirt with skinny sweater and tights, belted jacket over cami with jeans, pencil skirt with fitted tee and cardigan, jacket over printed dress (a la Kyra Sedgewick on "the Closer")...
To me, it seems like a slam dunk purchase to buy a vintage suit. Take this pewter 40s suit now offered at DOROTHEA'S CLOSET VINTAGE. A gorgeous "dress" worn together, it also packs loads of potential worn as individual pieces....
Classic design whether 40s nipped waist or 60s boxy cropped cuts, you get a complete look to custom accessorize to taste when worn together AND two great separates to mix into your wardrobe a myriad of ways. Don't fear the suit!
~Ang