My apologies to you if you have awoken to near Arctic conditions, as I have here in Iowa, for even daring to suggest wearing a skirt today!
While it feels as if I'm screaming into (the Arctic) wind, my goal this month is still to tout the value of the vintage separate. The skirt is perhaps one of the easiest ways to add some vintage edge to a wardrobe without commiting wholly to an entire "look". If your personality is a little quirky and outgoing, nothing better suited to it than a novelty print 50s skirt! Not at all necessary to pair with a crinoline as many sellers show online, these skirts look modern and fresh worn without and accented with a simple fitted tee or snug, slimming sweater to counter-balance the fullness of the skirt.
In an amazing collection shown on IMAGE EVENT by collector Cathy Gordon, this skirt epitomizes the kitsch and color found in a 50s circle skirt.
Cats too cute? Go for bold, dramatic color....a skirt perfect all year round worn with simple accessories and brightly colored flats. A superb poppy print by the coveted ASSOCIATED AMERICAN ARTISTS, this skirt is available now on eBay (click picture to get to listing by Cat's Pajamas) for less than you'll pay for an off the rack piece at the Gap....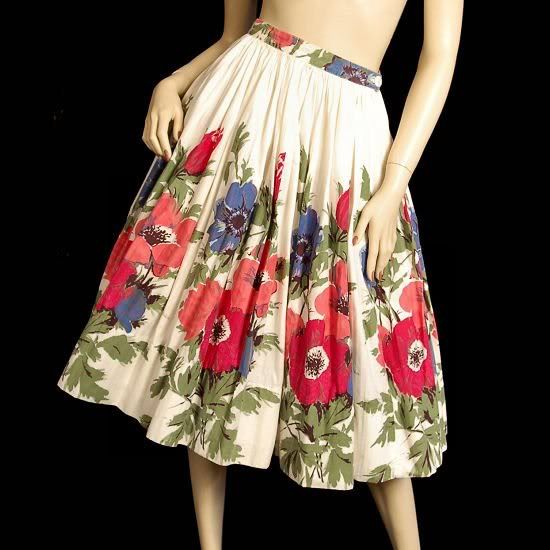 Why buy vintage when you CAN go to the mall? Because everyone else can go to the mall, too. Don't blend into the crowd!
~Ang