Dress v. Skirt.....Round 1
.............................Reality. Vintage dresses are hot. Worn on the red carpet by film stars, worn IN films by said film stars, spotted on socialites, fashion designers, the coolest chicks in school....the vintage dress is indeed a celeb in its own right. But what if you love vintage, but can rarely find the right color, fit, silhouette or size? What if you love the dress ever so, but have a lifestyle more suited to jeans and a tee shirt?
Thats where the vintage separate comes in! We'd be fooling ourselves to believe that the average woman of the 50s who indeed DID have a fine array of day, cocktail and evening dresses wore strictly dresses 24/7. Even in looking at patterns, many "dresses" are truly comprised of a skirt and blouse! The skirt is one of the easiest ways to add some vintage to your wardrobe without the fit issues of a dress and investing in a piece more versatile than one. Add a modern thin knit tee shirt to a boldly printed cotton 50s skirt.....a snug sweater to a 40s pencil skirt......a cami with a jersey knit 70s skirt.
Just listed on eBay by TRENDSETTERBLUE, this PIERRE CARDIN skirt....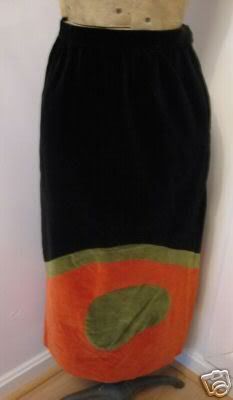 A great designer piece, perfect with a fitted sweater.....simple lines with a decidedly modern yet vintage feel. From DOROTHEA'S CLOSET VINTAGE, a skirt similar in style....handmade in yarnwork with faux fur trimmed hem....edgy and chic!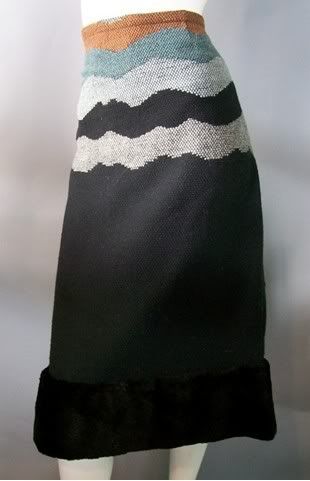 ~Grab a funky print skirt and add some vintage to your wardrobe!
~Ang