SEPARATE BUT EQUAL......The Vintage Separate.
..........When I started selling vintage online 5 years ago, it was just as exciting to find a great 50s circle skirt or beaded cashmere cardigan as it was to find a killer 40's dress. They sold! And it made sense at that....certainly, the price point was betetr for the customer to invest in a separate over a dress. Add to that the versatility a blouse, sweater or skirt adds to a wardrobe as opposed to a single dress and the choice becomes obvious (if, indeed, a choice has to be made!). But as a rule, separates sold as well as dresses over the years.
Lately, the trend seems to be more toward dresses. I love a vintage dress, a vintage gown.....if I didn't, I wouldn't be doing what I'm doing! But the lack of interest in separates confounds me. I've even found myself passing over the separates as I select items to take pictures of for the website in favor of dresses (a business decision, often, but the lack of enthusiasm for them seems to have rubbed off on me!).
But no more. Its ludicrous. This month kicks off a Season of Separates at Dorothea's Closet Vintage and in preparation for such an event, I have been steadily building up a selection of separates on the website, some of which are shown below. Click any of the pictures to get to the site and be sure to peruse each decade to find a page of separates.
A Season of Separates....ALL separates 20% off at Dorothea's Closet Vintage! Email to get revised invoicing or pay and email and I will refund the sale difference.
Some great pieces to add into your everyday wardrobe....soft cocoa suede 70's skirt from Saks 5th Avenue, perfect with boots and a sweater...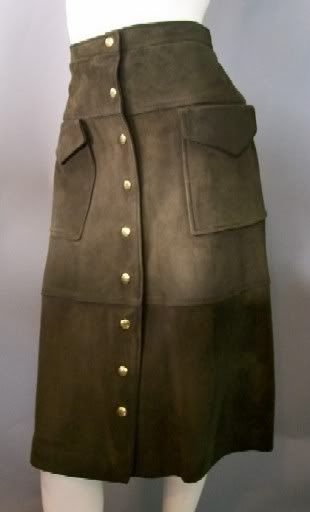 70's slinky jersey nylon beach scene body shirt....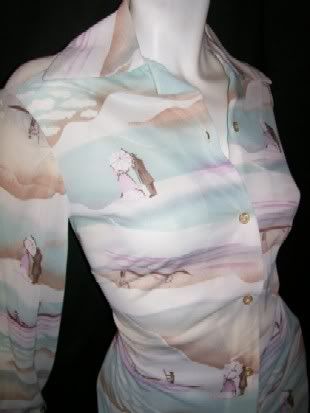 60s super mod Trekkie meets stewardess top, available in blue too!...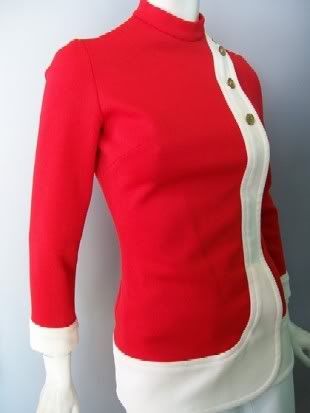 Watch for more thoughts on vintage separates, inspirations for making them work in a vintage or modern wardrobe, links to great finds and more added to the site over the next few weeks!
~Ang