Lots of new pieces on the site and more to come over the next couple days! Click pictures to get to shop!
Bright blue rose print silk 50s dress.....


Pretty white cotton full skirt 50s dress with lace and rhinestone detail....
50s polka dot dress and jacket....
Sultry black silk 50s wiggle dress sparkling with silver and gold beads top to bottom.....
Romantic peach satin gown with sequins and sweet ivory roses perched in folds of puff sleeves....
Mr. Dino op-art print 60s dress in a vintage size 20!....
Summer charm! A gorgeous hibiscus print 50s halter dress with 3-D applique at waist, textile by California Hand Prints Inc......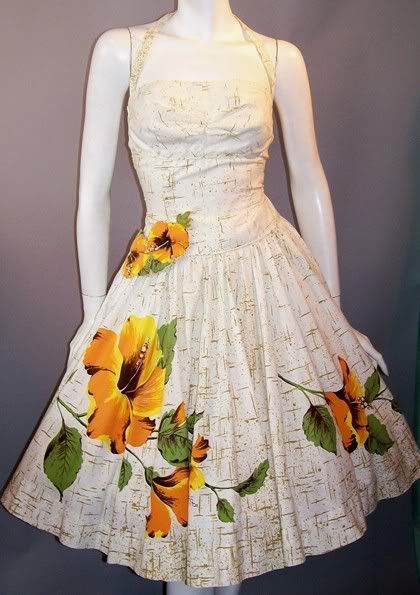 A racy birds in "love" (aka, making whoopee!) print Catalina swimsuit from the 50s....
Racy in a different way, a superb Speed Racer print by Gene Berk for Paganne.....
60's Lilly Pullitzer kitties and butterfly print summer maxi....
30's soft peach sweater and skirt boasting darling pom-pom accent....
All pictures click through to the website, enjoy browsing!
~Ang