I've been tagged by
SYDNEY'S VINTAGE FASHION RUNWAY
for the
eVINTAGE SOCIETY
Wednesday Blog Tag.
1) Show us your favorite vintage slip in your inventory ....

I've got several new vintage slips listed and more to come, but for something different I'm showing this cool green half slip with ruffled pleated chiffon hemline in gradient shades....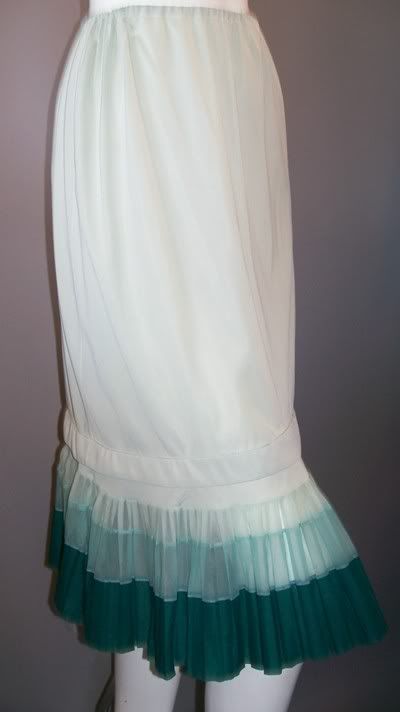 2) Lace trim or chiffon trim? Whats your favorite?

Chiffon....something about the way sheer vintage chiffon creates an ethereal, dreamy glow against the skin.....sultry!
3)Colors or neutrals, whats your preference?

Color! I love unusual colors in slips...like the green above, or a lavender one I just listed.
4) Favorite label in vintage lingerie? (Vintage Vanity Fair, Vassarette, Movie Star, Barbizon....)

While Vanity Fair is always quality, I love the label "Movie Star" just for how glamorous it sounds! I've also had a slip by "Miss Flashee" and loved that one too.
5) Full slip or half?

Full. The half slip has its usefulness but a full slip makes you pretty top to bottom!
6)Slips worn as dresses in public…..yea or nay?
Love them as dresses.....out on the town with a little cardigan (layered of course for modesty over a nude slip!), the brightly colored and funky detailed slips look every bit just as fab as any new cocktail dress in a department store!


DOROTHEA'S CLOSET VINTAGE tags Julie at DAMN GOOD VINTAGE.
~Ang




http://img.photobucket.com/albums/v148/missmaggiethecat/EVS/EVSsinatra.jpg