I've been tagged by
SYDNEY'S VINTAGE FASHION RUNWAY
for the
eVINTAGE SOCIETY
Wednesday Blog Tag.
1) Show your favorite Rat Pack look in your inventory (early 60s suit, fedora, tie, cufflinks, loop collar shirt…..)

I looooove this fantastic plaid 60s dinner jacket! Has a sort of Jerry Lee meets Rat Pack vibe....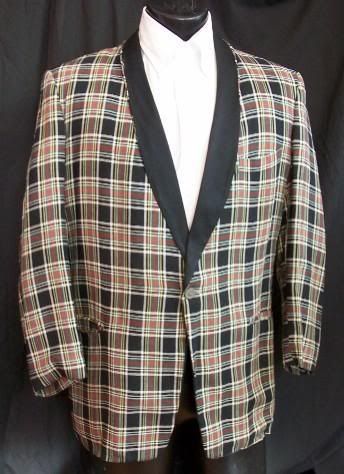 2) Favorite Sinatra song?

Thats a pretty tough one. I love "Violets for Your Furs", "Wait til You See Her"....his version of "Bewitched" is fantastic as well. I can't pick just one!!
3) Favorite Rat Pack member? (Dean Martin, Frank Sinatra, Joey Bishop, Sammy Davis Jr. or Peter Lawford)

Frank wins! But Dean's a close second.
4) Best Sinatra "era"? (40s young & skinny, 50s swingin' crooner or 60s Rat Pack suave?)

I love how cool he became but I ADORE him as a young, skinny kid from Hoboken with that surprisingly deep baritone coming from such a little scrappy looking guy!
5) Favorite Sinatra wife? (Nancy, Ava Gardner, Mia Farrow or Barbara)


Nancy. She inspired him to become who he became (though my daughter is named after the beautiful and glamorous Ava Gardner!).
6) Been to Vegas, how many times and best Vegas story (keep it clean!)

I did go to the rockabilly weekender one year, Viva Las Vegas.....yeah. I went to it. Thats all I can say. ;?


DOROTHEA'S CLOSET VINTAGE tags Julie at DAMN GOOD VINTAGE.
~Ang




http://img.photobucket.com/albums/v148/missmaggiethecat/EVS/EVSsinatra.jpg