I've been tagged by
SYDNEY'S VINTAGE FASHION RUNWAY
for the
eVINTAGE SOCIETY
Wednesday Blog Tag. Lets pretend its Wednesday, shall we?
1)WHAT IS YOUR FAVORITE SWIMSUIT OR BEACH WEAR OFFERED IN YOUR INVENTORY?

Fantastic shimmering gold skirted 2 piece pin up 40s swimsuit....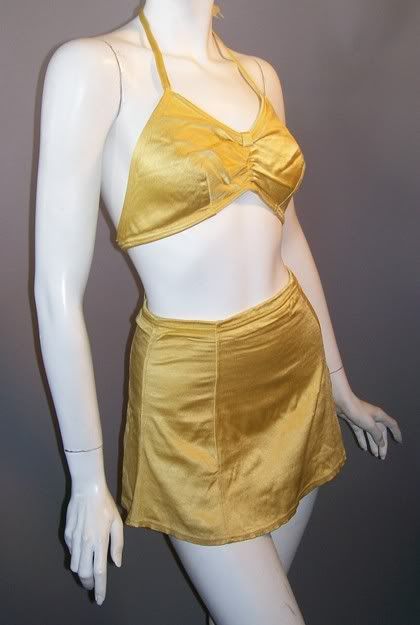 2)WHAT IS YOUR FAVORITE ERA IN SWIMWEAR, TO SELL OR WEAR?


30's swimsuits are always my favorite, though harder to find....I love the glamour they evoke, the gown inspired details, sexy exposed backs.
3)FAVORITE DESIGNER OR LINE?

I think Catalina did some of the coolest swimsuits I've personally had.
4)FAVORITE BEACH RESORT?

Not at all exotic or tropical....Okoboji Lake in northern Iowa!
COLOR OR BLACK AND WHITE?


Lots of color!!! I love a great graphic black and white but give me giant orange poppies any day!
6)FAVORITE POOLSIDE, TROPICAL COCKTAIL (WITH OR WITHOUT ALCOHOL)?

Raspberry margarita!
7)FOR YOU, BIKINI OR ONE PIECE?
One pieced, skirted, with mucho bust support. It rocks being almost 40!


DOROTHEA'S CLOSET VINTAGE tags Julie at DAMN GOOD VINTAGE.
~Ang