I've been tagged by
SYDNEY'S VINTAGE FASHION RUNWAY
for the
eVINTAGE SOCIETY
Wednesday Blog Tag.
Temperatures are rising and its time to show some skin! The halter neckline is a great way to leave a little to the imagination while exposing enough to stay cool and stylish. Lets talk halters!
1) Show us your favorite halter in your inventory....

I don't have a halter dress!! How crazy is that. But I DO have this Giorgio Sant' Angelo swimsuit from the 70s that comes with matching jacket and pants for a total beach ensemble....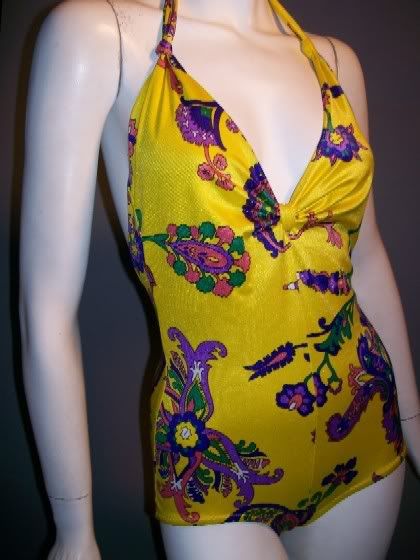 2)Marilyn rocked the halter bodice back in the 50s, but it came back big in the 70s…..which is your favorite era for the halter?

I'm kinda leaning towards the 70s lately! In sexy jersey knits.
3)Bare backs are vulnerable, what's your suggestion for protecting skin from the sun?

Um, I don't go into the sun. So thats my best suggestion! Stay in.
4)Halter as top or dress, whats your preference?

Dress. The tops ride up on me.
5)A bra can be a challenge…..best suggestion for support?

Tape!

DOROTHEA'S CLOSET VINTAGE tags Julie at DAMN GOOD VINTAGE.
~Ang