Wednesday blog tag questions as posed by the
eVINTAGE SOCIETY
......I've been tagged by
SYDNEY'S VINTAGE FASHION RUNWAY
!....
MOD OR MAD MEN?

Mad Men.......early 60s sex kitten in a wiggle dress anytime over big eyed waifs!
FAVE PIECE IN YOUR INVENTORY FITTING THE BILL?

Superb turquoise silk chiffon 60s cocktail dress on the website....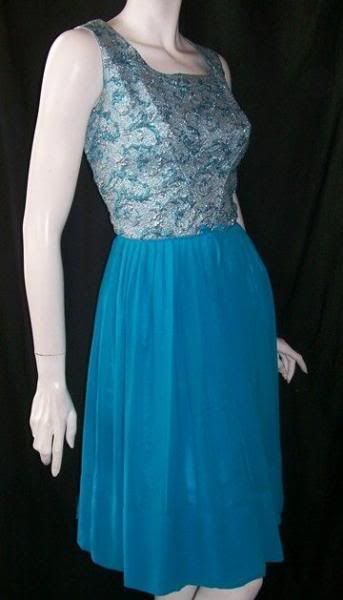 ICONIC EARLY 60s STARLET?
Liz Taylor. While gorgeous in the 50s she really came into her womanhood in the 60s, a little more jaded, a lot more attitude!
LATE 60's?
Edie Sedgewick.
SINATRA OR THE SWINGIN' 60s SCENE?
Sinatra. I'd have killed to hang out with the Rat Pack!
DOROTHEA'S CLOSET VINTAGE tags Julie at DAMN GOOD VINTAGE.
~Ang