I've been tagged by
SYDNEY'S VINTAGE FASHION RUNWAY
for the
eVINTAGE SOCIETY
Wednesday Blog Tag.
1)The colors of CANDY! What's your favorite candy colored vintage piece in your collection/inventory?
Hard to say, but I do LOVE this coral pink crepe Lee Jordan cocktail dress with candy-like beading at waist....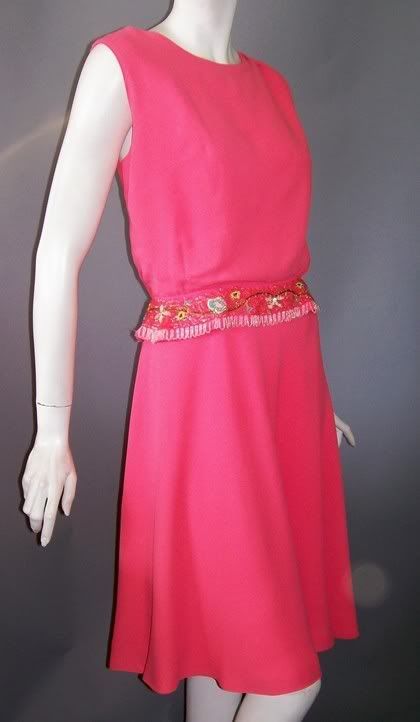 2)What's the sweetest accessory you're offering right now, or if you don't have one for sale, tell us about one of your own!
I LOVE this brightly colored, patchwork suede bag in bright chicklet colors! By, available on the website....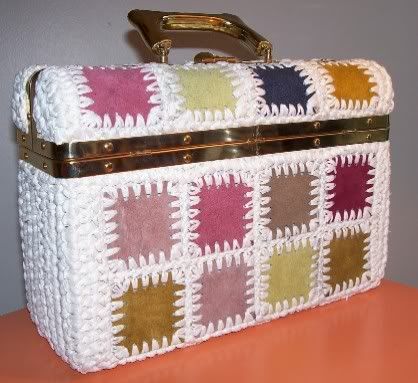 3) Sweet tooth? What's your favorite candy?
Anything chocolate and peanut butter!
4)Ice cream…..chocolate or strawberry, and why?
Chocolate. Always. Addicted. Strawberry is too.....sweet?
"Charlie and the Chocolate Factory", classic film or Johnny Depp re-make….and why?
I'm torn. Love the old one because its stuff of my childhood....I read the book even before I saw the film. Gene Wilder is brilliant in it and nothing tops that tunnel scene for pure creepiness! However....the newer one is fascinating. Its the only time I've seen Johnny Depp in a role that I didn't find him attractive in! And you gotta love the weeee tiny Oompa Loompas all being played by the same actor.
6)Is your personal style sweet or salty? Explain!
Salty with a dash of sweet. I'm a Salted Nut Roll!
DOROTHEA'S CLOSET VINTAGE tags Julie at DAMN GOOD VINTAGE.
~Ang