I've been tagged by
SYDNEY'S VINTAGE FASHION RUNWAY
for the
eVINTAGE SOCIETY
1) Show us your favorite Hawaiian or tropical print in your inventory!
I'm just about to add this fabulous little red sundress with gold and black Hawaiian print with the coveted PEGGY WOOD label! Its another piece from the collection of SPENCER COMMUNITY THEATRE, proceeds go to support the theatre!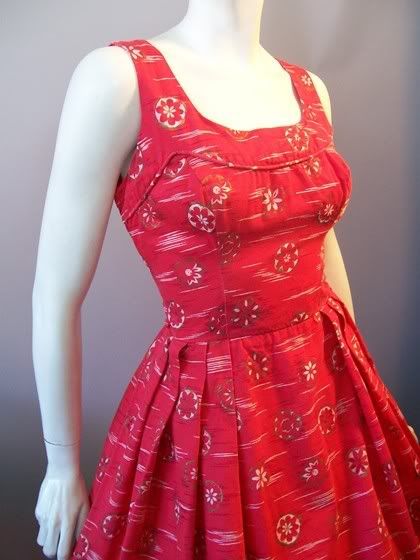 2)Favorite era for Hawaiian? 40's exotic gowns, 50s bombshell sarongs, 60s printed shifts or 70's Hawaiian halter maxis?
40s for sure. Beaded tropical print gowns, palm tree print swimwear in satins....so glamorous!

3)Favorite exotic destination if money were no object?
Given that I am terrified to fly, thats a tough one. Maybe a cruise to Hawaii. I'm not really a global traveling type!

4)Favorite exotic destination on a real-world budget?
REALLY tight budget? The local Botanical Center!

5)Best vacation ever?
Always Okoboji, with my daughter!

DOROTHEA'S CLOSET VINTAGE tags Julie at DAMN GOOD VINTAGE.
~Ang