A FORTUNY WOMAN
............Another of the great designer pieces recently sold at KERRY TAYLOR AUCTIONS, this Delphos gown in sky blue was designed in 1907 by designer Mario Fortuny (read more about him in the designer and label resource at THE VINTAGE FASHION GUILD ).

Done in silk and finely pleated, these gowns simplified the classical look and revolutionized fashion in the early part of the century. Easy to wear, they came with different sleeve styles in a range of gorgeous hues.
At DOROTHEA'S CLOSET VINTAGE, get a similar look in an updated textile.....soft, draping jersey knit in deep persimmon with a wide obi-style sash, by designer DONALD BROOKS....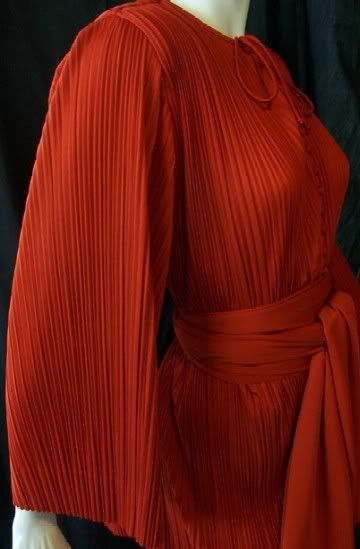 Be pleat-perfect in vintage!