MOOD MUGLER
...................Its easy to dismiss the 80's as an era of ridiculous neon colors, big hair and shoulder pads. But while the proportions of those shoulder pads grew, so did the design career of THIERRY MUGLER (info thanks to the Vintage Fashion Guild VFG)......creating pieces as over the top as any 80's piece could be, requisite shoulder pads intact and in charge. The recent auctions by KERRY TAYLOR AUCTIONS, several of his pieces performed amazingly well, giving older vintage dresses and gowns a run for their money.

Mugler's style was iconic 80's. Sculptural, bold and dramatic....like this leather suit dress...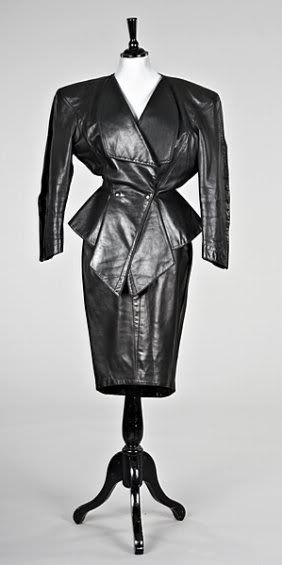 Another cutwork leather jacket....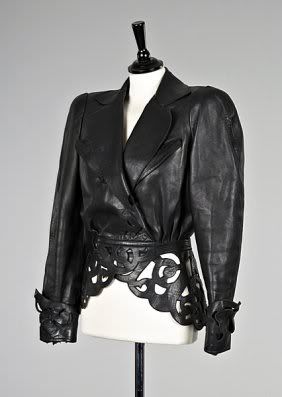 And my own favorite, this 2 piece suit dress with Seuss inspired green silk and sequined detailing.....
At DOROTHEA'S CLOSET VINTAGE, I'm offering a piece that is genuine 40's doing 80's! Which is to say, a piece far ahead of its time and clearly the look that inspired the types of pieces above by Mugler and his ilk. A fantastical 40's dress with wide, dramatic lapel angled across bodice and layered with crepe rayon and faille, adding dimension without distracting.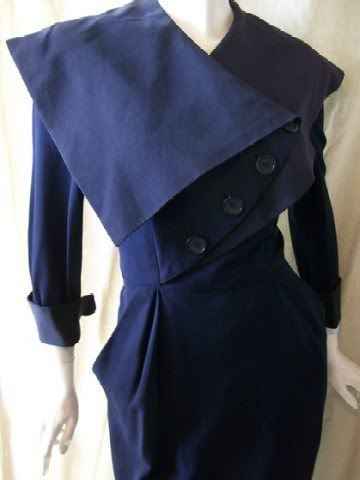 Designers look to the past for inspiration.....and if you love vintage, its no surprise! ~Ang