IF THESE PANTS COULD TALK....
.............The very definition of "hot pants", and ankle length at that! The recent Kerry Taylor Auctions may have featured loads of over the top, high end and couture designer vintage clothing but one of the stars of the auction was an unlabeled pair of plain cream slubbed silk capri pants.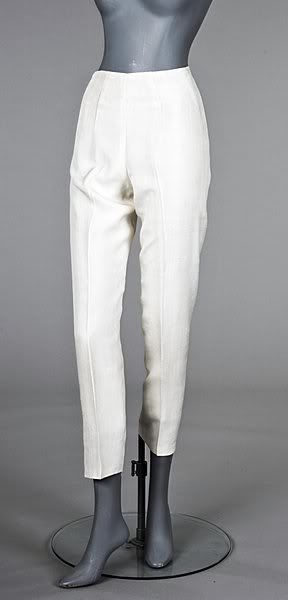 Why would a pair of non-descript 60s capris sell for nearly $8,000? One word. MARILYN.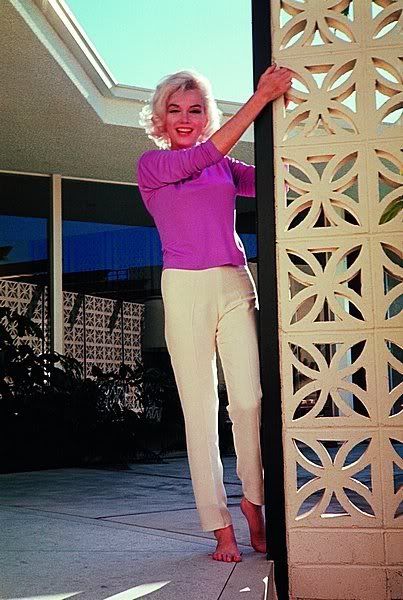 Few women could define a pair of plain capri pants like Marilyn Monroe, who used her hourglass figure and sex appeal to maximum effect to create a look wholly her own. Platinum hair and a pink snug top (and of course, being Marilyn Monroe) were all it took to take a pair of plain pants from bland to bombshell.
In the vintage world, pants and skirt strangely get passed over in favor of the dress.....something I see daily in my shop and on the website. Separates are certainly easier to incorporate into a modern wardrobe, less hassle where fit is concerned and often easier to accessorize. At Dorothea's Closet Vintage on eBay you'll find this 60's glam lounging set....aqua blue matelasse capri pants with a loose, yet sexy tunic top. Made in Hawaii no less! Exotic and glamorous.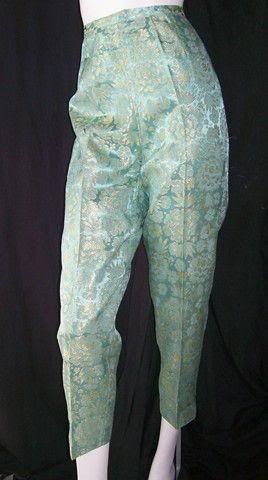 Vintage separates....why the snub? The above pants come as a set, no less, giving the wearer the option of wearing together or separately. Add a tight sweater and heels to the pants, a cami, a blouse and flats. The top (not shown) would look smashing with a pair of jeans. Don't pass up those pants, skirts and tops out there. Glamour doesn't have to be defined by a dress! ~Ang