The
KERRY TAYLOR AUCTIONS
ended recently, and in the vintage clothing realm, the final prices were nothing short of amazing. Rare designer pieces like this 50's ball gown by Madame Gres fetched 5 digit figures....and just looking at it, its no wonder why. This gown is exquisite in every way.....the colors, the layering of textiles, the silhouette....and those breathtaking flowers.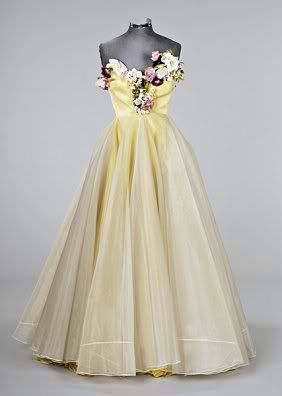 If only I had the resources to buy that AND the event to wear it to! For me, its the flowers that make it......bold, sculptural and romantic. At DOROTHEA'S CLOSET VINTAGE, a gown without the pedigree but with a similar approach to adding some flower power to an already smashing piece, this 30's black taffeta boasts large, vividly colored velvet roses front and center.....

And a with bit lower price tag! Gowns=glamour....and there is no rival for a gorgeous vintage gown.