I've been tagged by
SYDNEY'S VINTAGE FASHION RUNWAY
for the
eVINTAGE SOCIETY
Wednesday Blog Tag.
Last week CBS premiered a new series called SWING TOWN. Set in 1976, the show features 3 couples and their families…..a childless couple with loads of money, toys and an open marriage….a young couple with a teenage boy trying to define their relationship….and a more conservative couple facing a changing world. It also features some fab 70s clothes and music! Lets talk 70s!



1) Show us your favorite 70s piece in your inventory, mens, womens, dress, lingerie…..whatever you LOVE!

How about something purchased by the show to be in a disco scene filmed early this week? I'm guessing it will be on Grant Show. A fantastic rooster print Nik Nik disco shirt....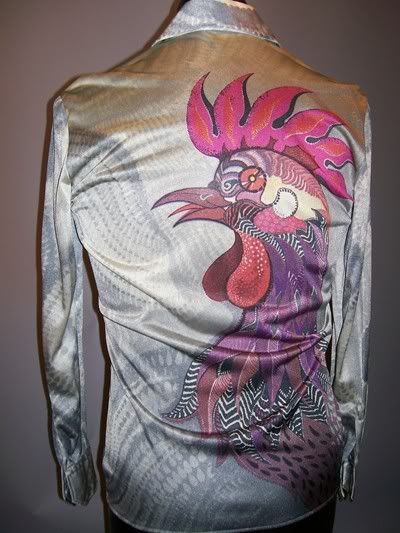 2)Define disco wear as YOU see it.
For guys, the shirt above....paired with crisply pressed wide leg, hip hugging disco pants and platforms. For the girls, those slinky jersey knit silks and nylons with spaghetti straps and swingy skirts!
3)What was your favorite look of the 70s? The maxi dress? Bell bottoms? Culottes? Do tell.
I was little in the 70s but for grown ups, I envied those girls with their feathered hair and ruffled disco dresses headed out to dance. Personally, I wore a lot of terry cloth and have recently come into a slew of new old stock shorts and short sets, gradually being listed on KISSMYVINTAGE.COM, my shop on etsy.
4)Your neighbors invite you to a wild party where there may be disco music. Do you go?

ABSOLUTELY!!!
5)Grant Show. Sexy then? Sexy now? No idea?
No idea about then, oddly sexy now as swingin' disco neighbor man.
6) Romantic Gunne Sax Prairie/Renn Queen or Disco Diva? Whats your style?
Totally disco, though I did rock my share of Gunne Sax in the late 70s.

DOROTHEA'S CLOSET VINTAGE tags Julie at DAMN GOOD VINTAGE.
~Ang