Lingerie Lou
.............................Who among us can claim to not love the vintage lingerie? I love it wholeheartedly....in fact, it was my love of the vintage slip that lead me to my current career. The soft nylon, the sheer chiffons, the delicate lace, the elegant bias cut satins & silks. I found this doll amidst my grandmother's things after she passed away & I can only imagine that playing with this doll as a child at her house helped to spur my fascination with it. Should I ever come across a snazzy GREEN hard plastic bra & tap pants set, I'll be complete! Meet Lingerie Lou........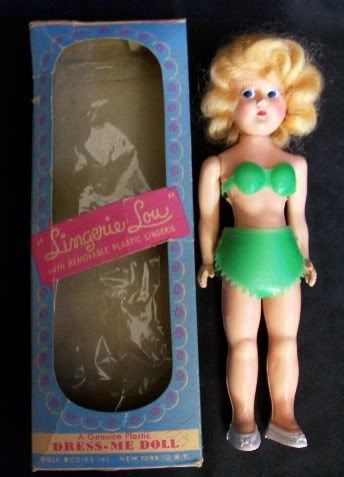 Apparently, one was to make clothing for our friend Lou....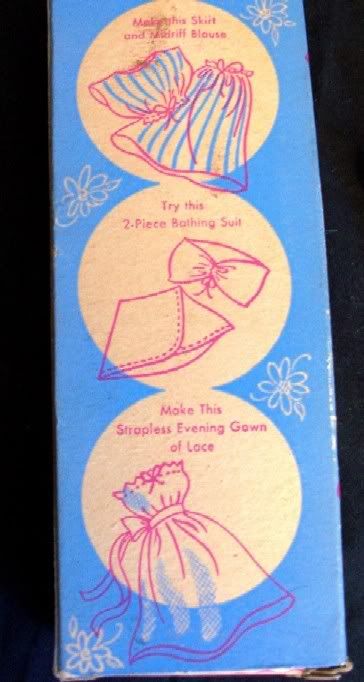 And I'm going to go 40s on her dating, based on the shape of that midriff top. Lou has mohair hair, a plastic body & odd sharp fins coming out of her ribs. I'm not sure how those wouldn't harm a small child's hands, but no matter! I loved Lou, and I still do. And I still love lingerie! In honor of Lou, and my grandma Dorothea, I give you a sampling of the lovely lingerie offered on the eBay store as well as the website. Pretty pretty!
Much more to be seen at either site, I've added alot to the website in the last few days....seems our Eleanor (of Stork Club lipstick fame, see previous post) had a weakness for the delicate & frilly as well....I'm only barely making a dent in all the gorgeous things I brought home from her place now! The website has a stunning bias cut silk crepe pale blue nightgown from the 30s, slips, bras & more....much more to come! An inspirational site that boasts some of the best vintage lingerie available is SILVER SCREEN LOUNGERIE, one of my favorites to visit for the eye candy & education. And keep in mind, I collect Daniel Green satin slippers (red satin 7.5 wedges *swoon*).....Christmas is coming! Ang