I love you. I've always loved feathers....from gaudy 70s maribou trim on Zsa Zsa-esque loungewear to funky bright spikes of feathers on hats worn tilted to the front to feather prints on slinky jersey nylon. The love is strong. Yesterday I got a call to a house where the owner was gearing up to sell off most of the contents, said house appearing nearly frozen in time circa '67-'72. Yes, that included the clothing (more on that later! 70s leather ankle boots! Crazy textured bell shaped maxis!).
But this feather-flower centerpiece caught my eye and insisted it come home with me...and is right comfy on the teakwood folding tray table with weathered frame featuring a tattered pic of Ann Margaret....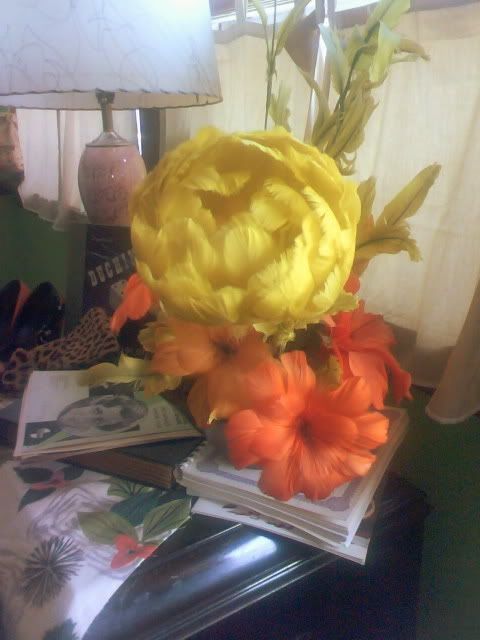 Inspiration for future SUGARLIDS? Quite so.
Tucked into a corner in the basement was this charmer, a ceramic deer while appearing diminuitive in this snap, actually stands about 24" tall and now resides on the fireplace mantle....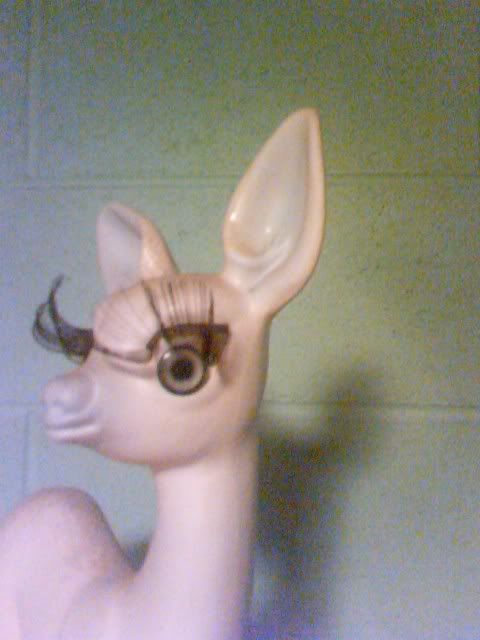 If I don't end up back at that house today with a big truck and a big stack of cash, I may perish.
~Ang