I've been tagged by
eVINTAGE SOCIETY
member
SYDNEY'S VINTAGE
....play along with me!
WHAT IS YOUR FAVORITE COLOR?
Orange!! Love it. Bright monk's robe orange.
WHAT IS YOUR FAVORITE BRIGHTLY COLOURED PIECE IN YOUR INVENTORY?

Since I started the blog tag as the eVintage blogger, I'm answering with a fellow member's dress, ANDAPANDA, listed now on eBay (click piccie!)......a luscious orange lace wiggle cocktail dress.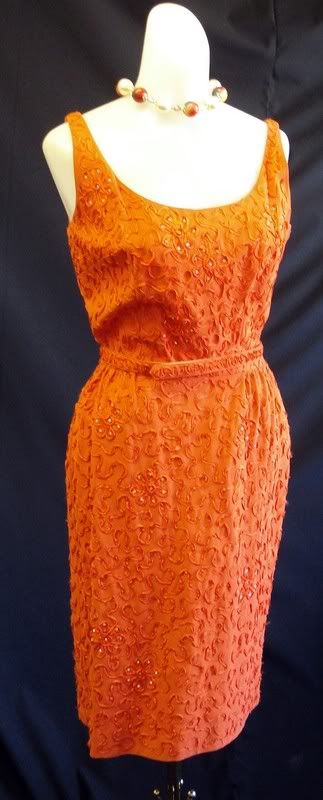 WHAT IS YOUR FAVORITE WAY TO ADD COLOUR TO AN OUTFIT?
I like bright plastic, large size jewelry....modern or vintage!
WHAT IS YOUR FAVORITE COLOUR TO WEAR?
Pinks, greens and red.

WHAT COLOUR ARE YOU WEARING RIGHT NOW?
Um, pjs.....so Miller High Life pj pants and a tank top. There is no matching when sleeping!
WHAT COLOURS DO YOU DECORATE WITH?
Copying my eVintage answer, too sleepy to get clever here....."Danish Modern teak brown and aqua for the living room, leopard print tones with salmon, aqua and white in the sunroom, 40s tropicals in greens and coral pinks in the dining room and the bedroom is Ikea-esque orange, red and pink. I love red and pink together!"
Done and done. I'm tagging fellow eVintage member Julie, of >DAMN GOOD VINTAGE! Go Julie!
~Ang