So, assuming everything is a go with whomever the final loan ends up going through (knock wood, etc), it looks like I'm a first time home buyer. I considered a condo (a really cool condo built in the late 50s, very Rat Pack swingin' cocktail parties-esque) but they didn't allow pets and I ended up deciding I would feel too disconnected from the earth up there on the 5th floor in a swanky glass box. Maybe in 20 years.
Its a buyer's market, they say, and so with what Dad left me of life insurance I decided to do what he'd been bugging me to do anyway....buy. A house, with a garage, a yard, a porch, a basement. The whole grown up deal. I looked around a few weeks, searching within the parameters of central Des Moines and older homes, looked at everything from ranch style homes done in the 50s to Tudor styles of the 20s to earlier bungalows. And in the end, despite my love for the mid-century modern, I ended up going with a bungalow that was built probably within minutes of the apartment building I've spent the last 4 years in. Maybe it felt like home for the wood and mouldings and solid construction (I was amazed at how those 50s ranch homes feel so flimsy!)....there really is a lot to be said about concrete, plaster and lathe, brick and hardwood construction.
The apartment I'm in now, which will be re-invented in a similar setting 5 blocks away next month....
Living room, Danish Modern-ish with fantastic curved sectional from the 50s/60s, estate sale find....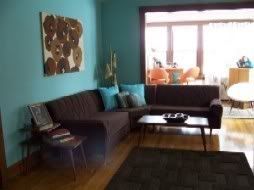 Bar (scored at an estate sale for $40)...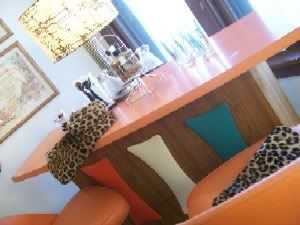 Record listening nook, which will likely move to the built-in side of the dining room or into the den....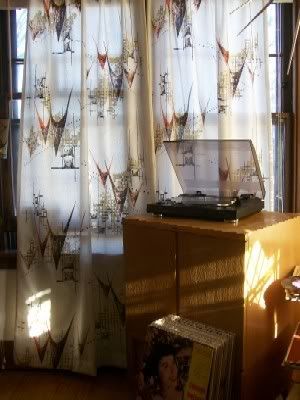 Dining room, based around a late 60s modern white formica topped table and yellow bucket chairs on casters, whole set from Salvation Army for $65....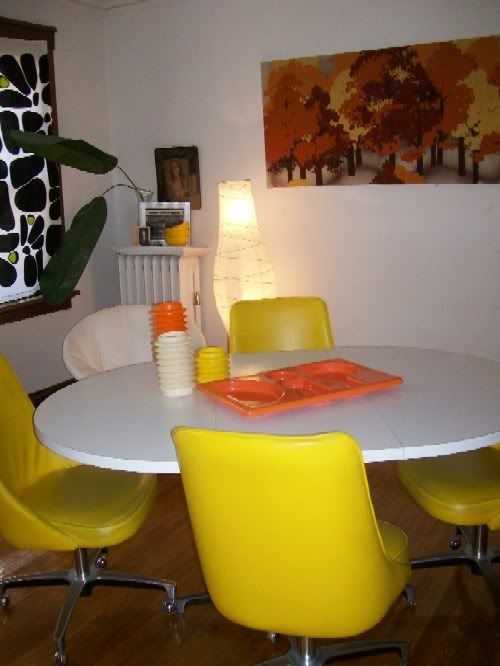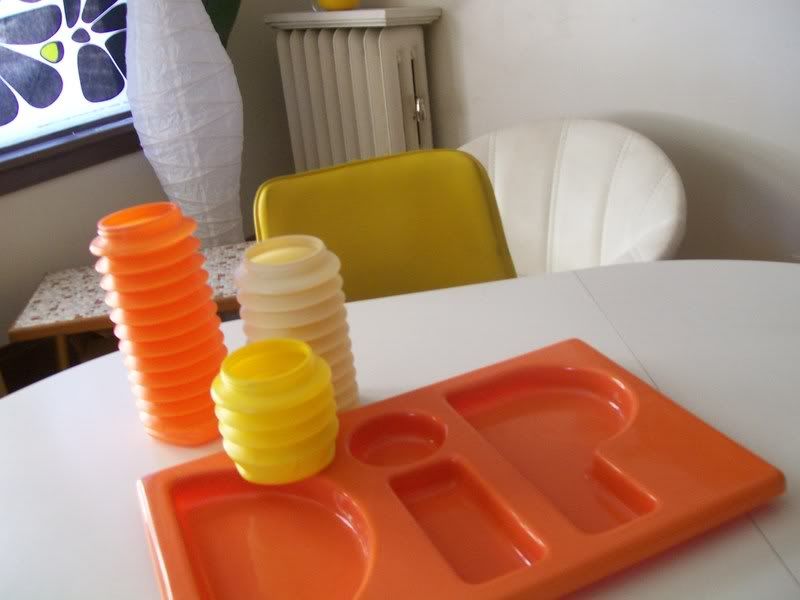 Weird with 1916 mouldings and wood floors, but it works here in the apartment so it will work in the house....I rather like the juxtaposition of eras.
So the house. Sits up away from the street so the view to the east (front) and south are over the houses and street to get lots of light and maintain privacy. I'm anxious to see what that vining plant on the arch is! If the loan comes through the NFC I'll have money available to re-paint in the Spring, which it needs. I'll likely stay in the green family. Maybe....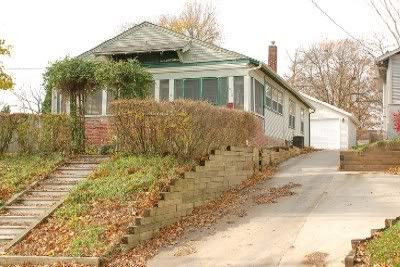 Interior of porch, which needs some screens and new front doors, but has several outlets and a swing so loads of potential for me, the kid and cats (and I'm thinking of doing a 40s tropical/Miami pre-WWII look in)....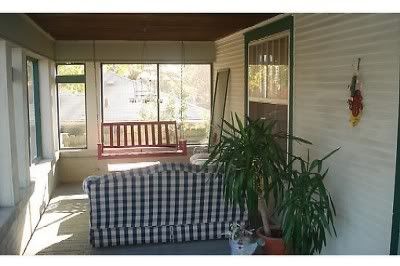 Living room, which is swell the way it is for the current owner but will need painted (blue again?) and I'm going to have the traditional style fireplace mantle boxed in with something more Danish Modern in a teak or cherry, cleaner lines, less busy....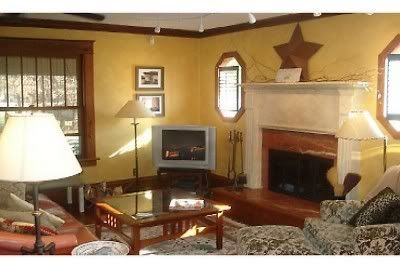 Front door with french doors off to side to den where my office will be....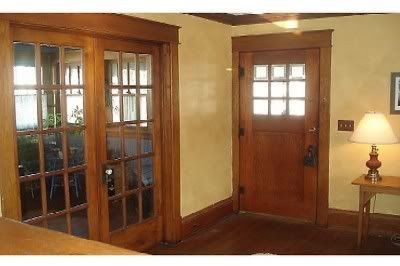 Dining room with fantastic built in, the other wall has been painted in warm gold and persimmon with wide stripes over a burlap covering. Should be fun pulling that down to see what's behind it. Thinking to paint it in a warm terra cotta in an almost 70s palette to set off the fabric wall hanging and tie in the bright yellow of the dining set with all the warm wood tones. Light fixture HAS to go (I'll store it as it works w/ the architecture, its not old though), I'll be moving the table off center in the room so I'll get a modern hanging light and swag it over from the electrical source....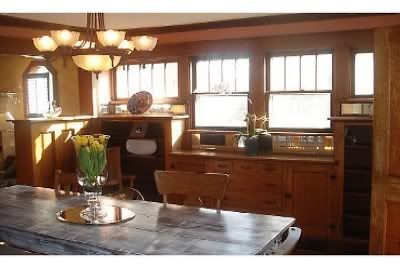 Kitchen, may leave green, depends on how my green formica topped/chrome trimmed small table and chairs from the 50s goes with it. Its the perfect size to go in front of the bay window....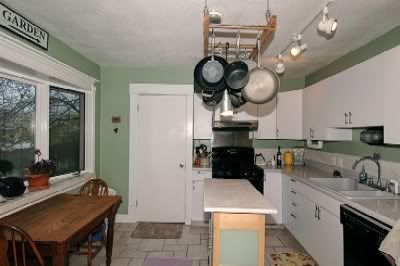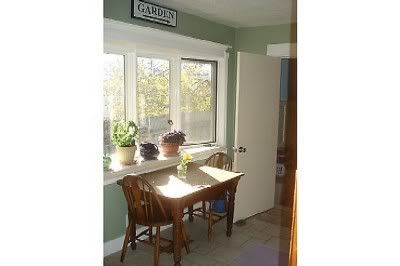 Bathroom. Years ago when the fireplace was added, the original window was taken out and used here where they then vaulted the ceiling, opening up the room to lots of natural light and adding a spacious feeling. The tub is new with whirlpool jets (!), and I love the idea of not having to mess with a shower curtain and liner. I'll leave it this color for now, hassle to paint this high and its neutral enough....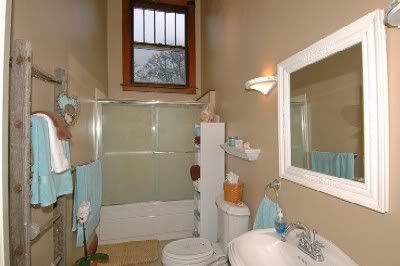 Both bedrooms are huge for a bungalow, which is a plus. Both need painted and will be starting from scratch decorating both, though one will be a dinosaur theme and its not MY room! The back yard has a low deck, water feature in the gardens and a privacy fence all around.....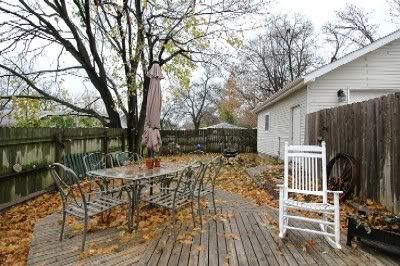 Anxious again to see what grows out there come spring! New garage is big enough for 2 cars and has a nice garden bench, storage, etc. Basement is unfinished, clean and dry, and comes with washer and dryer (no more treks through an ice alley to the laundry room to spend $2 a load!).
At that, I'm off to work on sorting and pitching crap around this place and pack up more stuff!
~Ang