I rarely shop eBay, and rarely comment on what I see there. But kids. What IS a bandage dress? Behold, Rachel Bilson ......who I dislike, but looks fabulous.....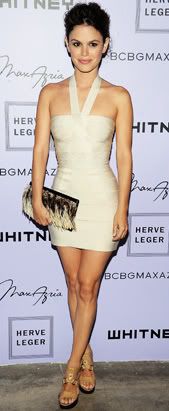 See? The bandage dress was created in the early 90s by HERVE LEGER. The look apparently is trendy right now (this is yet another scary indication to me that the NINETIES are coming back into style as a vintage trend to inspire new stuff....seriously, look for the keyword "grunge" on eBay! I'm NOT READY!!!! That was 20 minutes ago!!!).
So, as with any trend, its being misused like crazy on the eBay. Maxi dress? Bandage! Full skirted 50s dress? You bet, its bandage!!! Dress with a peplum? Bandage-tastic!
Oy. People, learn your fashion terms.
~Ang